"The way it's usually done is to say 'The house next door sold on July 1 for less than you valued my land, so that seems weird.'"
Higher land value assessments will increase land tax bills paid by NSW investors. Owner-occupants do not pay taxes on the land in their primary residence, but they and investors pay local rates. They will be issued at a time when borrowing costs are already rising and inflationary pressures are putting more and more pressure on households.
The falling housing market is likely to face more headwinds on Tuesday as the Reserve Bank of Australia is expected to raise the benchmark lending rate a further half percentage point to 2.35. percent, 2.25 percentage points higher than the 0.1 percent low as recently as April.
We're saying to start collecting your information for an objection now, in case you need it.

— Assessor General of New South Wales, David Parker
This is unlikely to be the last increase, with HSBC Chief Economist Paul Bloxham predicting a full 300 basis point rise in the cash rate before the central bank feels it has brought inflation back under control.
Australia's house price hangover will be less severe than New Zealand's, where values ​​rose more than here, but for just the six months to December, prices are likely to drop 7 percent nationally, with Sydney and Melbourne experiencing bigger drops, Bloxham said.
"Our house price model suggests that 300 basis points of increases would typically reduce nominal house prices by 15 to 20 percent, and our central forecast is for prices to fall about 15 percent from peak. from mid-2022 to the end of 2023." he said.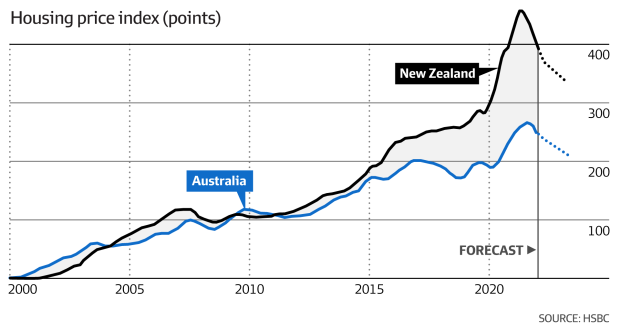 Across the New South Wales capital, residential properties in the "western arc" – an area stretching across South West Sydney, West Sydney and North West Sydney – would account for up to two-thirds of the 2.1 million appraisal notices and were in areas more likely to experience mortgage stress and "significant" price drops, Parker said.
Rising rates will cause payment stress for some borrowers. HSBC's Mr Bloxham said RBA analysis showed a 300 basis point rise in rates would lead to a more than 40 per cent rise in mortgage payments for around 30 per cent of borrowers.
"These are the borrowers to worry about and also the ones whose consumer spending should be reduced the most, thereby cooling inflation," he said.
"We expect that monetary tightening and falling house prices, coupled with the end of the pandemic-related reduction in excess household savings, will cause consumer spending growth to slow. This will generate an economic slowdown and, together with other global factors, will take away some of the momentum from inflation."
The general appraiser, an independent statutory position appointed by parliament, declined to say how much he thought prices would fall before the notices were published.
Parker said only one property owner had asked for their residential site to be increased in value.
"I had one just a few weeks ago," he said.
"I'm not sure why the particular knight did that. He came back and said, 'There was a rezoning and the value should be higher. Please revalue the property'. He surprised us a bit."
It was much more common for owners to request that their valuations be lowered and to do this, they needed to collect sales data now, Parker said.
"We're saying to start collecting your information for an objection now, in case you need it," he said.