"Obviously with the normalization of our market, buyers are very aware of seeing social proof. That just leads to that hesitation," he said.
"It's all about expectations. Sellers who have high hopes of knocking it out of the park… brace themselves for disappointment.
"Those who are happy to know the market are moving their properties much faster."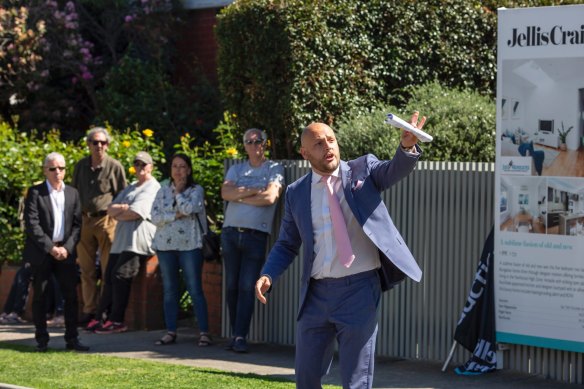 He advised sellers that offers now could be better than those coming in another month, and reminded cautious buyers that these weaker market conditions are what they have been waiting for.
Melbourne home values ​​fell another 1.2 per cent in August, figures from CoreLogic show, and are 3.8 per cent lower in the past three months.
Prices are expected to fall further as interest rates rise, and next week the Reserve Bank is expected to raise the cash rate for the fifth month in a row.
Rob and Heather Crowhurst sold their 22-year-old Cheltenham home after auction in July, and despite the stress of the process, they were happy with the result.
Although no bidder raised their hands at the auction, four bids were later received and the house was sold in four days.
"A lot of people don't like to get into a bidding situation, especially now that the market has loosened up," said Crowhurst, who has retired from manufacturing.
"If someone started, it could have been different, but nobody wanted to start."
His agent, Ray White Cheltenham manager Kevin Chokshi, received a post-auction offer that was subject to financing.
More buyers then wanted to inspect the property the following Monday and Tuesday. Four offers were made, including one $50,000 above the reserve price with no strings attached.
Chokshi has noted that some auctions go through and are sold later, but said the auction date creates a deadline, in a way that the private treaty process does not.
Charging
"The auction is creating a trigger for them to say, 'bang, let's make an offer,'" he said.
Or, if it doesn't sell soon after: "That should cause a price change for the seller."
Reside Real Estate senior sales consultant Nathan Gleeson said that in the weakened market, some buyers are waiting to see what happens after a property passes.
Others don't have their financing arranged and can't bid on auction terms, he said, as there is no cooling-off period for auction sales.
Or they may not want to be too quick to reveal their budget to a vendor, he said.
"Sometimes they're making it a little too cool," he said. "If there is an interested party, and no one [else] raise your hand, they won't bid."
Westpac Senior Economist Matthew Hassan said the cash rate hike had accelerated price declines that were already happening in Melbourne and Sydney due to stretched affordability and rising fixed mortgage rates.
He believes Melbourne is 20-30 per cent of the way through its market downturn, and has forecast a peak-to-trough decline of 18 per cent.
Hassan said post-auction sales showed there was still strong buyer demand for correctly priced properties.
"It can be an indication to sellers that they are prepared to change the price, that they can liquidate the property," he said.