Australian of the Year Dylan Alcott said allowing people receiving a disability support pension to withhold more of their support payment when they start work is an easy way to get more disabled people into work.
The retired wheelchair tennis star told the government jobs summit on Thursday that around 54 per cent of Australia's nearly 4.5 million disabled people were in the workforce, a participation rate that It hasn't changed in 28 years.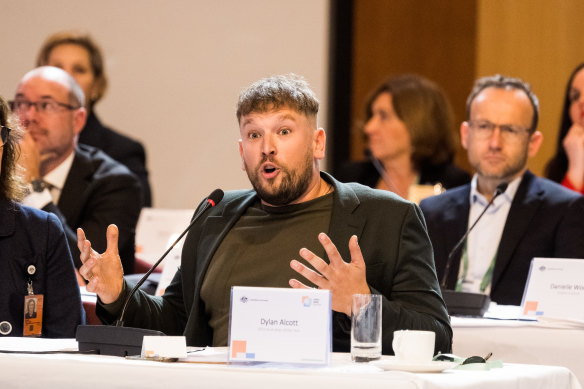 "In times of pandemic, natural disaster, or recession, whose jobs come first? Disabled people have jobs, and that's not fair," she said.
"To be honest, the time for the waffle is over, because we've been getting it for a long time."
Charging
An "obvious" step was to allow people on disability support pension (DSP) to return to more work without losing their benefits, Alcott said. He said there was the same problem with the pension, as retirees also faced losing part of their pay if they worked too hard.
"I don't see why you can't, to some extent, earn your pension… [or] DSP, and work too," he said, noting that it would enable people with disabilities to contribute to Australia's economic growth and help fill staffing shortages.
The current maximum reference disability support pension is $900.80 per fortnight. Under the pension earnings test, a single person on the DSP loses 50¢ for every dollar they earn over $190 per fortnight, which advocates say can act as a disincentive to work an extra day or two.
A proposal to change the age pension means test as a way to encourage older Australians to return to the workforce is a political idea backed by the Liberal Party since it lost office, and the summit was expected to reach an agreement about it.
Read more here.