Edinburgh: Decay. There is no other word for this. And it seems prophetic for the more difficult, almost terrifying, times ahead.
For the better part of a fortnight, the rubbish piled up, leaving the Scottish capital, Edinburgh, and the country's most populous city, Glasgow, as a dump.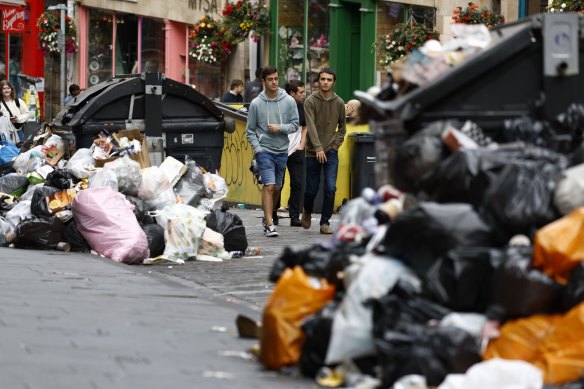 It was the smell that hit first. That smell that, even before you look up, tells you a garbage truck is passing by.
That was the smell of the main streets of Edinburgh. A smell befitting an even more raucous spectacle: bins crammed to bursting, then filled to the brim with empty glasses, bottles, and bowls, and festooned at the bottom with mounds of bags, leftovers, chicken bags, and dog poop bags.
Loose trash fluttered in the breeze up and down the gutters, chicken bones lying in the street.
Charging
People finishing their drinks carefully added their empty coffee cups to the piles as if trying to bring order out of total chaos.
In Glasgow, it was worse. The piles were higher; the rubbish seemed to have been there longer. Choosing a window seat in the restaurant to eat was a mistake that only became apparent the moment you sat down and the pong poured in through the window.
Garbage heaps became attractions for happy tourists, car accident-style.
It has been a summer of industrial action across the UK. First it was the rail workers, then the tube workers, then more than 115,000 Royal Mail postal employees began a four-day strike on Friday, and in Scotland, from August 18, the panache.
Read more here.