Brisbane man Matthew Bunce is facing the possibility of paying for a $51,000 Toyota Hilux that he cannot use after his car spontaneously caught fire outside his home.
The third-year carpenter apprentice purchased a new 2021 Toyota Hilux in June of last year.
He woke up in shock on a Saturday night early last month to the news that his ute was on fire.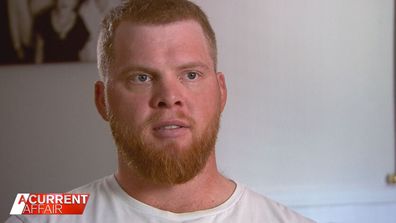 READ MORE: Angry customer calls payday loan company about ongoing direct debits
"The car had been parked in the driveway for about three hours, just sitting there. So I was pretty surprised when someone came into the house and said, 'Your car is on fire,'" Bunce said. A current affair.
CCTV footage from a neighbor's property captured the exact moment the fire started, as bright lights flashed from the engine compartment.
Within three minutes the car was engulfed in flames big enough to light up quiet Bunce Street in Strathpine, a Brisbane suburb.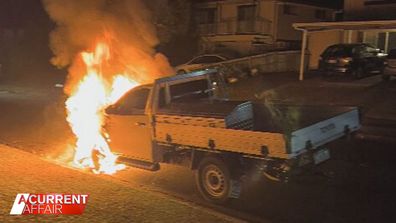 READ MORE: Loyal customers unite to save local bakery from closing amid rising rents
"I thought it was a bad dream, a nightmare, absolute disbelief and then gravity started to sink in and I was glad no one was hurt," Bunce said.
Fire crews eventually arrived to extinguish the fire, which was assessed by a fire investigator the next morning to determine the cause of the fire.
"He determined that it wasn't a suspicious fire, that there was a flash fire right on top of the battery," Bunce said.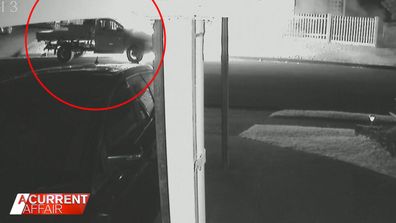 READ MORE: Australian man reveals how he lost more than 140 kilograms
Security camera footage also shows no one was near the vehicle in the hours before it caught fire.
"I had 100 percent faith in Toyota. From what I've seen, there's never been any real problems with Toyota that I've heard of in the past and then I finally have one and it blows up," Bunce said.
Bunce paid for the wreckage of his Hilux to be towed to the nearest Toyota dealer where he hoped its seven-year warranty would cover the cost of a replacement.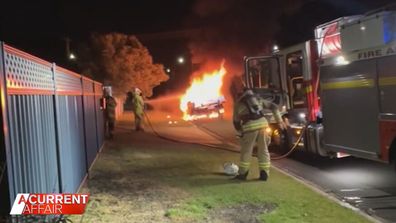 "Toyota pretty much came back and said, 'We can't seem to find a fault with the vehicle,' and it's my 'responsibility,'" Bunce said.
"I had to pay for towing, get a rental car and they haven't really offered to help in any way."
Bunce has spent the last three weeks trying to work out a solution with Toyota, but said the automaker has stopped taking his calls.
Adding to the pain is the fact that Bunce's car insurance expired earlier this year, due to cost-of-living pressures, a decision he now regrets.
"I had some tight bills so I didn't renew my insurance and that's my fault. It's my fault," Bunce said.
Despite this, Bunce hopes that his hefty investment in a new car and an extended warranty with six years remaining will justify Toyota's help in getting him a new car.
"I spent $50,000 on a ute for some security and peace of mind that could get me from A to B and now they seem to just drift away and it's my problem," Bunce said.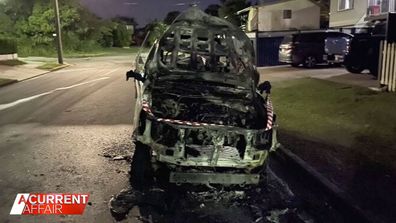 "Do it right, you know, honor your warranty. You said Toyota is tough, well this one wasn't," he said.
A Toyota spokesman said that while customer safety is its "top priority", he could not elaborate on the cause of the fire.
"Our technical experts recently concluded an investigation into this incident and we expect to provide a detailed response with our findings to Mr. Bunce by the end of the week," a spokesman said.
"Out of respect for Mr. Bunce, we have no further comment at this time on this matter."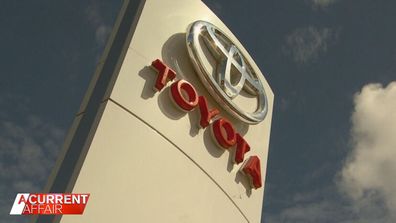 Last year, Toyota recalled hundreds of Hilux Rogues after a safety issue was discovered that could lead to short circuits and, in the worst case, a vehicle fire.
Bunce's Hilux isn't the only Toyota to spontaneously combust recently, with video capturing a Rav4 hybrid exploding into flames in a Gold Coast driveway last year.
A Toyota Camry also caught fire earlier this month in Brisbane.
Fire investigators deemed there were no suspicious circumstances.
"It's pretty short-sighted of the company, they're just trying to sweep it under the rug and thinking they're going to keep the little guy," Bunce said.
"I'm not going to stand there and take it. Spent $50,000 on a new ute, hopefully a new ute, not a ash heap in my driveway."
In pictures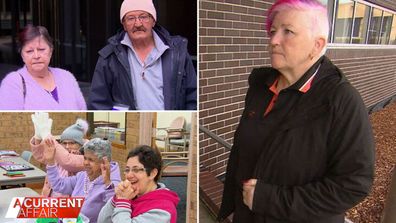 Heartwarming results for those in dire straits
Australian wrestlers have contacted A Current Affair about everything from unfair bills to battles with bureaucracy in a last-ditch effort to get a fair shot, and emerged victorious as a result.
See gallery