The deal had come after a year of research into merger and acquisition possibilities, but it fell into their lap after a phone call from Visage's former CEO, whom they had met at the annual conference of the Radiological Society of North America. North, that the company still attends. Visage had been conducting a transaction, but the buyer had backed out.
The secret to Visage's success is its ability to allow radiologists to view large image files and reports, generated by X-rays and other scans, from their mobile devices in seconds, enabling them to make diagnostic decisions remotely. .
For a profession with a shortage of talent, this has become a game changer for health care groups trying to attract and retain staff, allowing them to offer radiologists flexible working conditions, something that became even more important during COVID-19.
With Visage 7, the company has developed a proprietary streaming platform, which allows multi-gigabyte files to be displayed almost instantly, instead of requiring long download times. By contrast, competing software (owned by Philips, Siemens, GE Healthcare, and Agfa) still relies on traditional "push and send" technology, where large files must be compressed, sent, and then opened at the other end minutes later.
Today, Pro Medicus still runs its radiology information system software, now called Visage RIS, but it is this imaging software that makes up the majority of revenue and is driving business growth.
It also still uses the original Visage R.&D in Berlin, which continues to be the engine that drives Pro Medicus' technological advances.
"They are unmatched and the mote around their technology is really quite broad," said Hester.
"I consider that their competitive advantage is enormous in relation to their peers. They are asked every year why someone hasn't decided to develop something similar to what they have and no one has a good answer.
"It's remarkable, and that's why they get the price increases through that, as well as the market share gains."
Market capitalization skyrockets
When Pro Medicus acquired Visage in 2009, the company was trading with a market capitalization of $115.3 million.
Today, the company is worth $5.6 billion and closed Friday at $53.69 a share. That's almost a 50-fold magnification.
The huge increase in value has put Dr. Hupert and his co-founder Anthony Hall on the Rich List, and they both own 26 percent of the business.
Earlier this month, the company revealed that its revenue had risen 37.7% to $93.5 million in the year to June 30, and its net profit rose 43.7% to 44. 4 million dollars.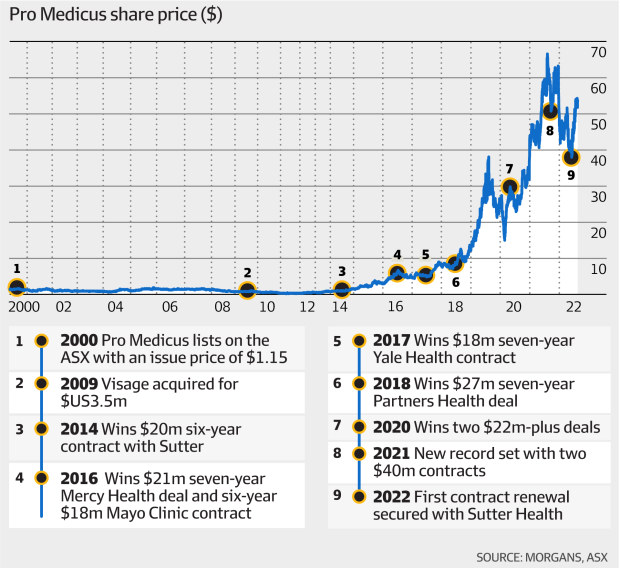 But it's the company's earnings before interest and tax headroom that have investors and analysts really excited, rising from 63 percent to 67 percent.
"You can see that about 80 percent of every additional dollar in revenue falls through the EBIT line," Hester said.
For a nearly $100 million revenue business, you have a small sales team of less than a handful of people. The lean team means your customer acquisition cost is extremely low.
"An EBIT margin of 67 percent is virtually unheard of at most companies," said Morgans research analyst Iain Wilkie.
"They did all of their development years ago, so excluding ongoing R&D what they have to do to stay ahead, they go out and sell the software, and it doesn't cost much to deliver."
Straddling tech and healthcare, Wilsons equity research analyst Melissa Benson said the firm compares Pro Medicus to tech stocks, not just healthcare companies, and still stands out from the pack.
"The comparisons we have seen are WiseTech, Xero, TechnologyOne and Altium. It is best-in-class among its technology and healthcare peers with respect to operating margins and return on invested capital," he said.
the best hospitals
The company has a growing user base of top-tier US hospitals, including Yale, NYU Langone Health, Mayo Clinic, Partners Healthcare, and Northwestern Memorial Hospital.
In the last year, it completed three new seven-year deals with Novant Health in North Carolina and Allina Health in Minneapolis, worth $40 million and $28 million, respectively. She also obtained an eight-year contract with Inova Health System in Northern Virginia and extended a contract with the German government.
For the first time, it also had two major contracts to renew, with both Sutter Health and Wellspan Health signing new multi-year deals, collectively worth $47 million.
These were the first renewals Pro Medicus had negotiated, and the groups re-signed longer-term, higher-priced contracts. The company has six contracts to renew in the next year or two.
"What [renewals] do is credit the product," said Michelle Lopez, head of Australian equities at global investment company ABRDN.
"If they lost a customer, it would be a huge red flag about the quality of the product.
"Contracts provide a minimum contracted income base per exam…but each one they have done has exceeded [that minimum] because the number of tests performed is always greater. The underlying engine of company growth is exams."
Ms. López said that the amount generated in addition to the contracted minimum was usually around 10 per cent, but was sometimes materially higher.
Valuation
In addition to its radiology product, Pro Medicus has been investing in expanding into so-called "other ologies," first developing a cardiology imaging capability for its Visage 7 software. It has also been investing in creating an artificial intelligence branch of the business, with its first algorithm (developed with Yale) on breast density. None of these advances generate income yet.
Ms. López was optimistic about the potential of these two investments, but most analysts were not yet factoring in any material benefits of these investments in their models for years to come.
"I'm not modeling cardiology in a big way, maybe a 5 percent contribution in later years," Mr. Wilkie said.
"But all it would take is a big client, like the Mayo Clinic, to say they're implementing it, give it the go-ahead, and then a lot of people would follow. His clients are people that everyone looks up to.
"The AI ​​front is difficult because on the AI ​​front it is difficult to get a refund [from US insurers]. It's more of an additional cost… the bells and whistles."
Abrdn first bought Pro Medicus in 2019 when the business was priced at around $20, before adding to his position in 2020 when it fell to around $16 in the COVID-19 market panic.
The investment manager has advised the company in recent years on how to improve its governance and diversify its board, things Lopez said it has taken by leaps and bounds.
Rather than assess the company's valuation by looking at the stock's price-earnings multiple, which is currently 126 times bottom line, Ms. Lopez, Ms. Benson, Mr. Hester, and Mr. Wilkie use a discounted cash flow (DCF) model. On this basis, the company's current price is more acceptable.
"It looks expensive in the short term, but I expect it to continue to grow to that multiple," said Wilkie, who has a price target of $58.18.
Ms. Benson has the highest price target for the stock of all the analysts covering the business at $62 per share.
She said she runs a DCF, but then considers a substantial advantage because of what she considers to be a high probability that it can be acquired.
"They have been in the US for over seven years and no one has come close to achieving the technological nuances that they have," he said.
"All the incumbents that Pro Medicus is winning contracts from, like Philips, Siemens, GE and Agfa, have no way of keeping their market share and are losing it to Pro Medicus. There comes a time for these players where the only way to stay competitive is to buy it… we think it's an important period in the next 12-36 months and if Pro Medicus continues on this trajectory the starters will have to do something.