He was 20 years old and in two years, he developed the world's first technology that allowed sending boarding passes by SMS. It was launched by Jetstar in 2009.
Later, he went on to establish Elenium, a business with Corona and Fred Melki, with whom he had worked on Jetstar's IT operations. The trio set out to develop technology that would make it easier to get in and out of airports.
biggest challenge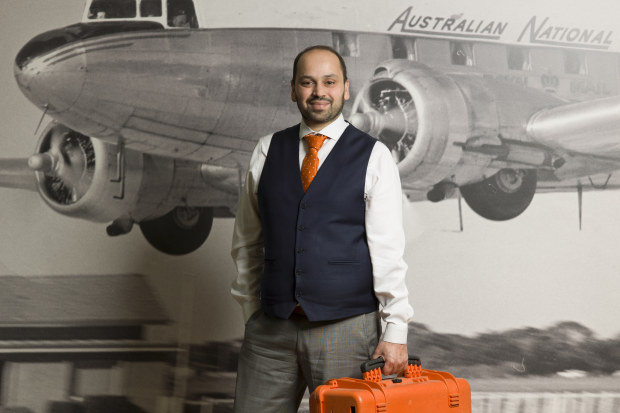 They landed their first client, Sydney Airport, who liked their napkin-back design for a portable check-in kiosk. The airport was sold. But he came with a catch. They would have to build them in six weeks.
Perhaps the biggest challenge for Hornlimann, however, came five years later, when international borders were closed in 2020 and airlines around the world were grounded.
"We immediately started thinking about how the technology could be used outside of airports," says Hornlimann.
"The next thing was to make sure that we had really goodwill with our investors, and that they were prepared that this could be a bit of a winter to come.
"We made a significant capital increase."
Surprisingly, Elenium managed to increase revenue during COVID-19.
In part, it was due to the diversification move to transfer its digital identity technology to other sectors. This was implemented at a military base in the US, Distribution Centers, and early learning centers.
But there were also mistakes. The company was quick to automate the technology for temperature checks, which was part of the initial management of the pandemic.
It took six months to complete. "By the time it was approved, everyone had gone from temperature checks to QR code registration," says Hornlimann, who is now worth an estimated $42 million.
"We were the only ones who had that approval. However, the silver lining was that it forced us to miniaturize some of our technology and drastically reduce the operating cost."
She remembers following the advice given to her by Corona, who is also a friend of the family.
"He told me at the beginning: 'Never act like a pendulum. Don't go from one extreme to the other, try to stay centered. Be tough. Think fast; act slowly.
"I think that really helped during the whole COVID situation because it required all of us to really think hard and not just become reactionary."
Another strategy he adopted was a tree swap. He traded city life for 20 acres of land in Victoria's Mount Macedon.