The growing popularity of kombucha fizzy drinks has prompted a Melbourne label to build a large fermenter in Dandenong, making it the world's third-largest producer of the thirst quencher.
The $25 million Remedy Drinks facility is 200,000 square feet, roughly the size of a football field.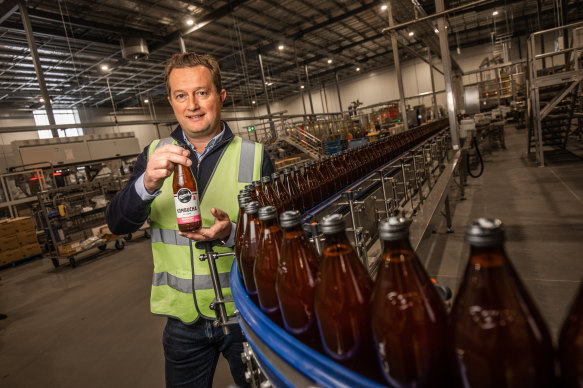 It's a far cry from the kitchen table where founders Sarah and Emmet Condon started the business 10 years ago, but kombucha is still made the same way.
In a room heated to 30 degrees, hundreds of vats of kombucha are brewed, all using Remedy's original "mother" scoby, a live culture of yeast and bacteria, that is over 50 years old.
The drink is made from slightly sweetened tea that feeds the scoby by creating a cocktail of live carbonated organisms like beer.
After brewing for 30 days, the fermented product is de-sugared and kombucha is fed into the filling lines, which at full speed can fill 20,000 brown glass Remedy bottles in an hour.
CEO Chris Gillard said IRI data suggested Australia's kombucha market was worth $300 million and would continue to grow, fueled by the trend toward healthy drinks.
Gillard said that the increasing tendency of people to reduce their alcohol consumption had also fueled the popularity of kombucha.
"Young people are drinking less and the older generation is moving toward a barbecue with beers and a booch, but we think the biggest trend is away from artificially sweetened beverages, which is half the market," he said.