The figurehead for Maggie Beer Holdings is celebrity chef and author Maggie Beer, who is also a director of the ASX-listed company that enhanced its online presence last year with the $40 million acquisition of Hampers. & Giveaways, accelerating growth as many Maggie Beer food products were included in baskets.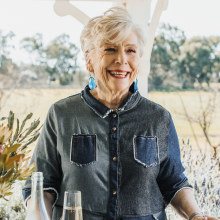 E-commerce sales now account for 66 percent of total sales. "We expect it to continue to rise," says Ms. Millard. E-commerce sales were up 32 percent, but the online business had to pay an additional $1.2 million in additional costs from container shortages and COVID-19 disruptions.
Shares of Maggie Beer Holdings gained 9 percent in early ASX trading Wednesday at 38¢. The stock had hit 62¢ in February.
The group's grocery retail sales rose 11.2 per cent to $26.6 million, with expanded product ranges helping the group. Bone broth and cooking broth were the best-selling products in this segment, generating $5.6 million in sales.
The gourmet food producer had already signaled in May that earnings would be hit by $4.2 million due to supply chain disruptions and problems at its dairy businesses that would outweigh the price increases it had implemented.
The company was rebranded as Maggie Beer Holdings in mid-2020 from its previous name of Longtable.
Maggie Beer and her husband, Colin, sold the remaining 52% of their gourmet food business to Longtable in a deal that closed in April 2019. The initial 48% of Maggie Beer Products was acquired by Longtable, formerly known as Primary Opinion . , in 2016 for $15 million.