Australia's auction market continues to rally, with CoreLogic's preliminary auction settlement rate posting its best result in 12 weeks.
In capital cities combined, 62.6% of auctions were reported as sold, down from last week's preliminary result of 61.5% (later revised down to 56.0%).
Melbourne's preliminary clearance rate fell to 64.9% from 65.9% last week (later revised down to 58.8%). This was his first weekly drop in five weeks.
Sydney posted a preliminary clearance rate of 63.4%, which was up from last week's 59.7% (later revised down to 54.7%). This was their strongest result since the end of April.
After eight of his nine properties sold on Saturday, Sydney's top auctioneer and real estate influencer, Tom Panos, declared that "we are very close to the bottom of the real estate market":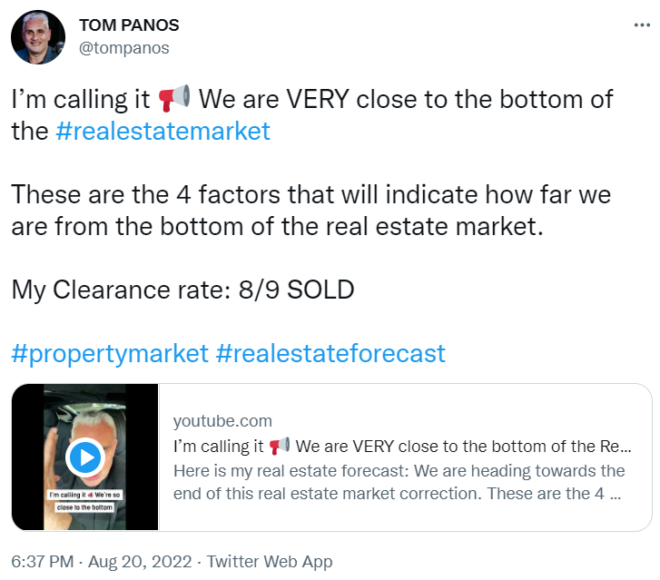 According to Panos:
"We're back in business baby… This is what I'm forecasting… If there was a clock, right now, and it's 12 and six. Where is the market? I reckon we're at five… We're very, very close to the end of this correction… And everyone reading 'property prices are going to drop 20%' headlines, wake up. They already have. 15% at least in most areas, 20%. That correction has happened"…

"So here are the factors that are going to indicate how far we are from the bottom. Because spring is going to be a test."

"Number one: We clearly know that long-term fixed rates have come down… That is sending a message to buyers that interest rate hikes are not something chronic long-term that we are going to live with. It is noted that it is a tool that is being used in the short term to take care of inflation".

"Number two: The next factor that will determine whether we go down another 5% or 7% is the supply of new listings. If the supply of new listings increases in the spring… Keep an eye out for that…"

"Number three: the speed of rate increases is increasing and the magnitude of those increases…As rates increase, borrowing capacity decreases…and property offers shrink"…

"Number four: The return of investors… They are seeing high returns. A rental boom is taking place in many areas… Property becomes an attractive asset against inflation"…

"These are the factors. I call him, I guess it's five o'clock. Not too far from the bottom. Probably still a little [of downside] happen. Those factors are going to indicate how much more."
I would largely agree with Panos if reported prices were already down 15-20%, as he says.
The problem is that the data reported by CoreLogic is showing only a 3.8% drop in the five main capitals, with prices falling at a rapid pace:
This means home value indices from CoreLogic and other data providers still have a lot more to fall to match Panos' 15% to 20% estimate.
Ultimately, how much Australian house prices will fall depends more on what the Reserve Bank of Australia (RBA) does with interest rates, with the volume of listings during the spring playing a minor role.
The pace of interest rate increases is unprecedented and we are in uncharted waters.
So, if the RBA goes up as aggressively as, say, the market is predicting, and the official cash rate rises to 3.6% by June next year (inferring a variable discount mortgage rate of around 7 %), then the value of the house will drop considerably. .
However, if the RBA soon stops rising, price declines will slow before leveling off.
Either way, I can't see house prices recovering until after the RBA starts cutting rates, which probably won't be until at least mid-2023.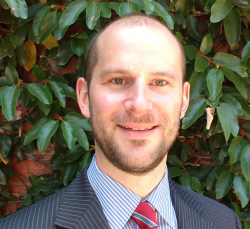 Latest posts by Unconventional Economist
(see everything)