"I think they [supermarkets] they are absolutely a part of the solution given, on any given day, most Australians walk into a supermarket."
As inflation rises, many of the 1,800 charities supplied by OzHarvest are struggling to feed those in need. In a recent survey, 32 per cent of charities said they couldn't keep up with demand, while the OzHarvest Market in Waterloo has gone from providing free food to 1,300 people in need each week to 1,700.
"Given we're facing chronic food and vegetable shortages, there's no question that phasing out unnecessary expiration dates would help," Kahn said.
Grant Miles, owner of Melbourne's 'Cheaper Buy Miles' discount supermarkets which sell expired products, called for a "complete overhaul" of food labeling in Australia and a national education campaign.
"The expiration dates on so many products that we sell in Australia are completely absurd," he said.
"Manufacturers and retailers love to put the date on it because it encourages rotation.
"You can have the exact same product from different brands, like yogurt or soft cheeses, one has an expiration date and another has an expiration date."
He said his customer base understood the difference between 'best before' and 'use by', but the vast majority of people were throwing food away unnecessarily.
Stop Food Waste Australia, an industry- and government-funded research group, estimates that Australian households spend between $2,200 and $2,700 each year on food that goes to waste.
Chief Operating Officer Mark Barthel said implementing best-practice date labeling could reduce household food waste by about 10 percent.
"That's 250,000 tons of food that doesn't go to waste in the home every year," he said.
But Barthel, a sustainability expert who contributed to the research that reported recent changes to date labels in the UK, warned that it will be some time before Australian regulators and retailers feel comfortable making changes to date labels. .
"We need to test whether the approach that has been taken … in the UK is appropriate to the Australian context, and whether consumers really understand what is going on," he said.
"It will probably be 18 months to two years before you really see a change in supermarkets."

Major retailers Woolworths and Aldi have committed to sending zero waste to landfill by 2025, and Coles will reduce the waste it sends to landfill by 85% by the same date.
In a statement, a Woolworths spokesman said any changes to Australia's food safety standards codes "would require additional engagement with industry and government at large".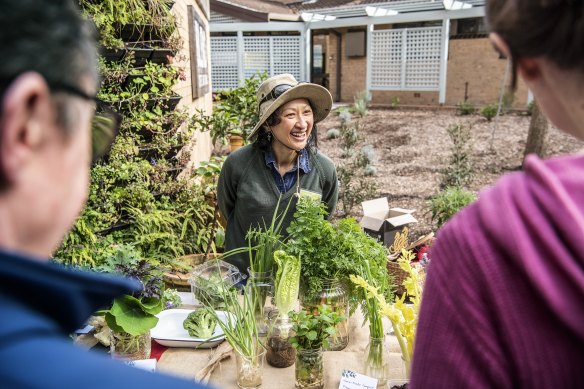 Trinh Pham, who runs a workshop at Willoughby City Council's monthly food exchange, said it was "strange" that fruit and vegetables have best before dates.
"The date could still be good, but it could have been mishandled," he said. "I go for what looks cool, what looks good."
Penny Wood, who began attending the Chatswood Food Exchange six months ago when her family could no longer eat all the produce from their enclosed garden, said she attended regularly because she wanted to help her two-year-old son Tom understand where his food came from.
"Gardening is an activity that will hopefully get him interested in the environment as he grows older," he said.
The Morning Edition newsletter is our guide to the most important and interesting stories, analysis and ideas of the day. sign up here.